Cunard QM2 Transatlantic Crossing with Anthony Inglis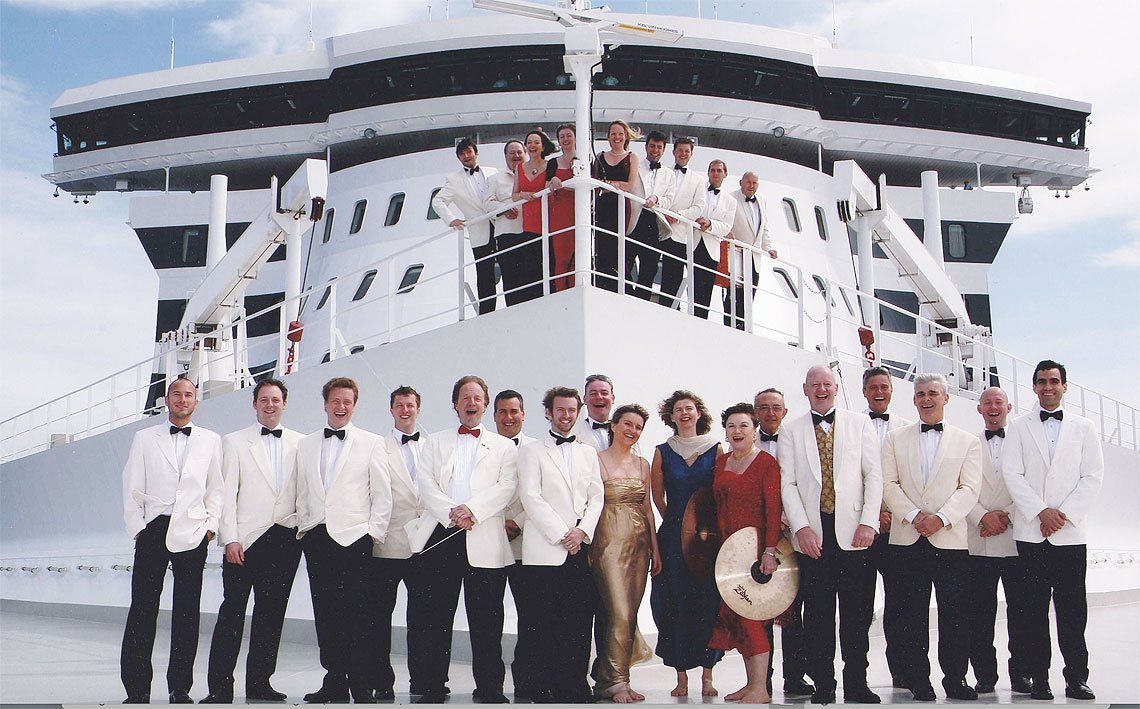 For over a decade, the undoubted highlight of the year for the National Symphony Orchestra (UK) has been the transatlantic crossing on Cunard's magnificent flagship, the ocean liner Queen Mary 2.
Though the crossing can be scheduled from New York to Southampton or vice versa, the 7-day voyage in 2021, 12-19 September, starts in the Big Apple. A buzz of excitement can palpably be felt by all the orchestra as they assemble in the early hours at Heathrow airport, even though they are all well-seasoned, international travellers. Musicians love humour and storytelling. NSO's relationship with maestro Anthony Inglis is close, they have been on the road together for twenty years. Their rapport is both tangible and affectionate. Whilst boarding the aircraft, conductor Inglis turns left to first class and NSO musicians pull his leg. When Inglis carries glasses of champagne down to musicians in economy class during the flight, it's all respect and gratitude, and they laugh together. NSO is known as an orchestra that knows how to enjoy itself, communicating that sense of fun and passion during performance.
Settling in on QM2 is easy for musicians, they know the ropes. Many of the heavier musical instruments such as timpani, percussion and double bass have been loaded on the ship a week in advance, having been transported to New York on a previous crossing. Cellos and violins, flutes and oboes are carried by hand and the players organise rehearsal rooms behind the Royal Court Theatre for their individual practice. Some of the musicians will have solo or chamber concerts to perform when this voyage is finished and they need to keep their music-making in top order.
The concert schedule for the voyage features two evening programmes which are repeated twice. In addition, an afternoon concert is performed which features the string players of the orchestra. Past performances have included Vivaldi's masterpiece The Four Seasons, Barber's Adagio, Dvorak, Elgar and Tchaikowsky serenades for strings. For 2021's crossing, maestro Inglis has come up with a novel idea: many musicians on board QM2, including members of the brilliant dance bands and the resident string group, will join NSO to perform Ravel's Bolero. Ravel's music features all the instruments of the orchestra heard in turn, over the unchanging, incessant, rhythm of a side drum. Music grows in intensity and volume over twenty minutes, ending with a rousing finale which is guaranteed to bring the audience to its feet – Cunard guests are always genuinely generous in their appreciation.
The first performance by NSO is a concert of all-American music. The highlight is invariably Gershwin's enduringly popular Rhapsody in Blue. The piece starts with a two-and-a-half octave glissando on clarinet and is probably the best-known clarinet solo of all time, explains Inglis.
Rhapsody was first premiered in an 'experimental concert' by Paul Whiteman and his jazz orchestra, with the composer playing the virtuoso piano role. It was not until rehearsal began that the clarinettist's glissando unintentionally came into being. As a joke on Gershwin, Gorman, Whiteman's player, started the opening bars with a noticeable slide, adding what he considered a humorous touch to the passage. Reacting favourably to Gorman's interpretation, Gershwin asked him to perform the opening that way at the concert and to add as much of a 'wail' as possible. At its première on February 12, 1924, at New York's Aeolian Hall, "Ross Gorman began his glissando and electrified the house". This performing tradition has continued ever since to delight audiences, including those attending in QM2 Royal Court Theatre. The solo pianist with NSO, Katherine Rockhill became an overnight sensation on board the ship after her recent performances. Diminutive, hands as nimble as a speed typist, she dispatches the challenges of Rhapsody with deceptive ease and panache.
It is reckoned there is no featured artist who has appeared more often at London's Royal Albert Hall than Anthony Inglis. He is Music Director for Welsh mezzo-soprano Katherine Jenkins and Music Supervisor and Consultant to the London production of Phantom of the Opera, as well as conductor of orchestras worldwide. In his early career he worked with comic geniuses such as Michael Crawford and the The Two Ronnies, Barker and Corbett. This experience shows, as from his podium, baton in hand, he introduces musical selections for the orchestra with a charismatic blend of wisdom and humour.
The final evening's concert is entitled The Last of the Cunard Proms. After listening to NSO performing works close to the soul of the British nation such as an overture by Gilbert and Sullivan and Elgar's moving Nimrod, both orchestra and audience participate in a rousing finale complete with a guest soprano soloist.
Away from rehearsing and performing, members of the orchestra can occasionally be found on the lower decks performing chamber music in small groups for their own pleasure. It is not often NSO's musicians have an opportunity to socialise, spending evenings together away from the concert stage. Dressing up for dinner, enjoying leisurely, gregarious meals, attending lectures, are a welcome privilege.
Perhaps it just because QM2 does not stop at ports on the transatlantic crossing, the liner being out of sight of land for almost a week, that gives a special sense of a community, shared experienced, which grows inexorably for all on board.
Standing on deck, feeling the salty wind sting my face, watching a pod of dolphins racing alongside the liner, cruising majestically past the Statue of Liberty leaving New York as a band plays on deck, is life-affirming.
Cunard and NSO are masters at orchestral manoeuvres, moving in harmony. Long may they sail together.
To find out more about NSO's 2021 Transatlantic crossing, please visit:
www.cunard.com